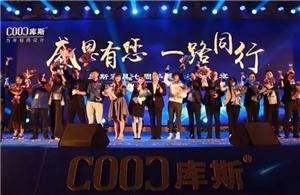 COOC Furniture 7th Anniversary Thanksgiving Banquet
On March 14th, 2019, "Grateful for your company all the way" - The 7th Anniversary Thanksgiving Dinner of Cooc Furniture was held at the Luhu International Conference Center. The company's senior management, functional departments, employee representatives, cooperative customers and friends gathered together to look back on the past and look to the future, and plan about the grand blueprint for corporate development in 2019.
13-08-2019
On August 16, 2020, Cooc Furniture held the "National Dealer Training Conference" at the Luhu Hotel in Gaomingmei, Foshan. The purpose is to cultivate the sales ability of dealers across the country and store operation ideas, so that all Coos Everyone can apply what they have learned, and bring the learned knowledge to the store to become marketing.

From June 9 to 10, 2020, the order of new products for the summer of 2020 of COOC Household and China Merchants Association were successfully held as scheduled.In two days and two nights, COOC distributors from all over the country gathered together to have a wonderful time, appreciate new products of COOC Furniture spring and summer 2020, make progress together, learn together, and witness the grand plan of COOC in the new era of 2020!

On April 19, 2020, with the strong support of the chairman, general manager of the Manufacturing Center, production director and other leading executives of COOC Furniture and the assistance of all COOC members, the 5th Semi-Military Training Camp of COOC Furniture was ceremoniously opened.

From May 26 to 28, 2020,The 7th "Winning Terminal, Performance is King" national elite special training camp of COOC Furniture Was successfully held in 2020 !

The national linkage activity of COOC Furniture N6 project lasted for 23 days. With the joint efforts of COOC team and friends from dealers all over the country, the teams of all military areas exceeded the target with a completion rate of 218%, creating a good sales performance again and growing against the trend, which is the "Miracle of COOC" for us!

From July 11 to 12, 2020, COOC Furniture nationwide V6 joint activities were officially started.From all over the country, COOC dealers and COOC Furniture business school, business and development, initiative Marketing Department and other marketing center elite together, which standed for V6 nationwide joint activities were officially start!